What Is Cloud Computing?
In plain English, cloud computing is the process of accessing and storing data over the Internet rather than on your hard drive.
To give its clients speedier, more creative, and more adaptable resources, it offers services including storage, database, networking, and the Internet. Customers can reduce their operational costs and run their business infrastructure more effectively by only paying for the resources they utilize.
Now, Google Cloud has been the talk of the town among various cloud providers like AWS, Microsoft, VMWare, IBM, etc. in recent years, and there are plenty of reasons why. Let's start with the basics and define Google Cloud.
What Is Google Cloud Platform?
The Google Cloud is a collection of cloud computing services. The platform offers a range of services, including computing, storage, networking, big data, and many others, all of which are supported by the same internal infrastructure that Google employs for its customers, including Google Search and YouTube.
A Google server outage hasn't occurred in years. Therefore, you can be sure that your applications will be safe and secure if you decide to run them on the Google Cloud infrastructure.
The top three cloud competitors are briefly compared here.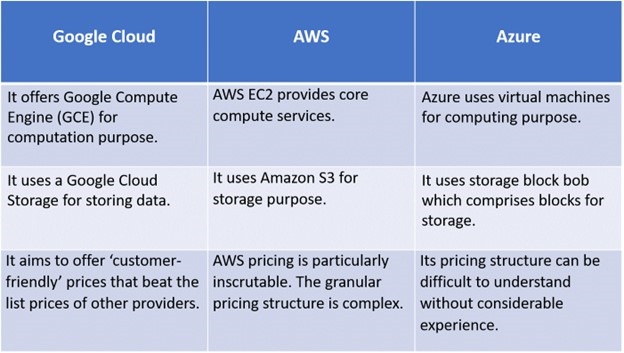 Let's look into a few benefits that Google Cloud has to offer to its users: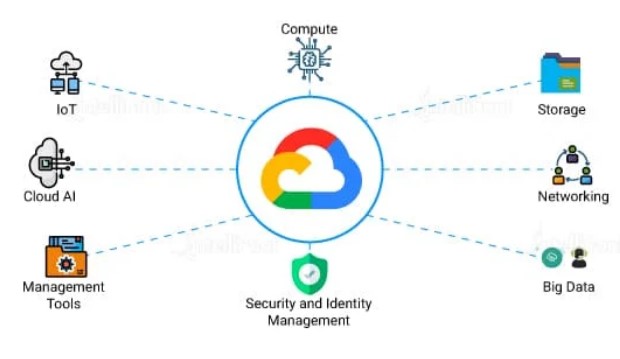 Best Pricing: Hosting packages for Google Cloud are less expensive than those for competing platforms. Customers of Google Cloud have access to a pay-as-you-go service where they only pay for the resources they use.
Work from Anywhere: Through web-based applications powered by Google, employees have complete access to information across all devices from anywhere around the globe.
Private Network: Each client receives access to Google's network, giving them greater flexibility and control over the network. It spreads its network using fiber-optic connections since it can typically handle any volume of data. This private network allows users to operate as efficiently and quickly as possible.
Post any questions or concerns you have regarding GCP on the GCP Community.
Security: A sizable team of security experts that Google has employed to aid in securing the information stored on servers. On the cloud platform, all data is encrypted. Users can therefore be confident that their data is protected. Backup Redundancy: Google offers built-in backup redundancy. Thus, if the user's saved data is lost, Google would have made a backup of it. So theoretically, your data is still intact! Data durability, reliability, and integrity are all improved by redundancy.
Google Cloud Services
Google Cloud has been expanding across the globe. The reason is the wide array of services it offers to its users:
Google Cloud Compute Services

Google Cloud Storage Services

Networking

Big Data Services

Security and Identity Management

Management Tools

Cloud AI

IoT