Report Overview
The global cloud computing industry was worth USD 368.97 billion in 2021 and is predicted to increase at a compound annual growth rate (CAGR) of 15.7% from 2022 to 2030. The use of developing technologies such as artificial intelligence (AI) and machine learning facilitates cloud expansion by allowing businesses to tap into AI capabilities. The COVID-19 pandemic has emerged as a major threat to the world economy. Cloud computing can help businesses overcome the business continuity issues posed by lockdown, work from home, social distancing, and other market mandates. However, as a result of the epidemic, firms, managers, and employees are increasingly opting for remote working. Remote working has emerged as the latest trend and is predicted to remain in the long run.
One of the most major workplace transformations is projected as a result of the epidemic. It is changing how organizations use smart technologies like mobile supercomputing, IoT, big data, and artificial intelligence to advance Industry 4.0, or the fourth industrial revolution. In Q3 2020, the cloud-computing industry accelerated demand as enterprises continued to transfer workloads from traditional channels to digital formats. Many businesses in numerous industries have adopted the work-from-home model to maintain employee well-being and operational efficiency, increasing demand for Software-as-a-Service (SaaS)-based solutions.
Because of the growing demand for collaboration solutions, Microsoft Team platform users increased to 44 million globally. While the standalone 8×8 Video Meetings cloud solution had a more than 300 percent increase in registered users across 150 countries in the last week of February 2020. As a result of the lockdowns, there is a significant surge in demand for streaming platforms such as Amazon Prime, Disney+, Twitch, Netflix, Hulu, YouTube, and Apple TV. This increase in Video-on-Demand (VoD) consumption has increased the demand for Infrastructure as a Service (IaaS) to meet consumer demands.
Cloud computing provides more efficient and speedier methods of adapting and running commercial operations in response to changing market circumstances. It simplifies technology consumerization. It has opened up hitherto unseen opportunities for creating very engaging customer experiences. Cloud computing has influenced people's and enterprises' behavior, allowing many lines of business to work around technology rules. Cloud trends are influencing enterprises' investment strategies, digital business decision-making processes, and vendor and technology choices.
Organizations' key concerns are data security and privacy, as information storage, use, and transfer must be digitally safeguarded. According to surveys, around 60% of business-sensitive data on hard drives is held insecurely. Some of the essential security services provided by vendors include data encryption, authorization management, access control, cloud integration, communication security, monitoring and auditing, and business continuity services. Vendors such as Google LLP, Microsoft Corporation, and Amazon.com Inc., for example, provide 99.9 percent uptime, relieving enterprises of the burden of developing and maintaining recovery facilities and backup infrastructure.
Deployment Insights
In 2021, the private deployment category topped the cloud computing market with a revenue share of more than 46 percent. Private clouds give computational capabilities across a personal network or the internet to a small number of users rather than the general public. It provides organizations with scalability, self-service, and flexibility, as well as additional customization and controls hosted on on-premise computer infrastructure. Furthermore, private clouds provide third-party providers with greater privacy and security by leveraging internal hosting and firewalls to ensure high-level data protection.
The hybrid deployment sector, which is an integrated environment that includes both public and private models, is expected to increase at a rapid pace over the projected period. The hybrid approach has emerged as the favored implementation model across industries. Several companies are increasingly focusing on developing hybrid cloud models and smart approaches to help improve corporate operations, resource utilization, cost optimization, user experience, and application modernization while maximizing advantages. Edge computing has emerged as one of the most important forces predicted to accelerate the use of hybrid cloud solutions in organizations worldwide.
Cloud Computing Market Report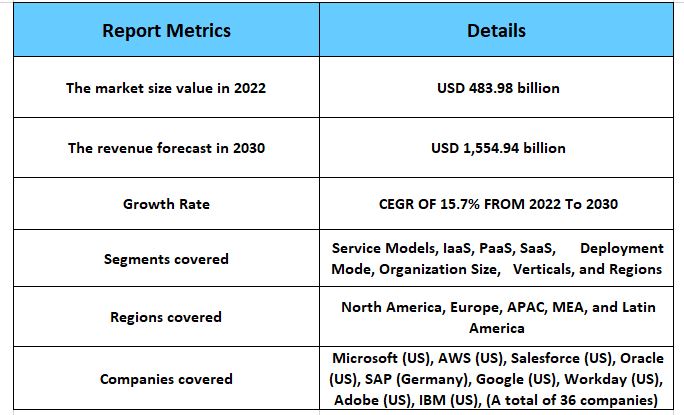 COVID-19 impact on the Cloud Computing Market 
Many businesses across industries have adopted the work-from-home model to protect employee well-being while maintaining operational efficiency, driving up demand for Software-as-a-Service (SaaS)-based collaboration solutions. Because of the growing demand for collaboration solutions, Microsoft Team platform users increased to 44 million globally. While the standalone 8×8 Video Meetings cloud service had a more than 300 percent rise in registered users across 150 countries in early 2020. Google Hangouts, Cisco Webex, Slack, Zoom, Ding Talk, WeChat Work, and Tencent Meeting are among the other popular SaaS-based collaboration solutions gaining acceptance.
As a result of country lockdowns, there is a large surge in demand for streaming platforms such as Netflix, Hulu, Amazon, Disney+, Twitch, YouTube, and Apple TV. With the rise of Video-on-Demand (VoD), there is a greater need for IaaS to meet consumer needs. Enterprises all around the world are expanding their products to meet the evolving needs of end-users. Here are a few examples Salesforce will introduce the Health Cloud 2.0 in September 2021. It is a Salesforce-connected platform that enables the delivery of increased safety to the company's employees and customers through the use of several modules such as Dreampass and Contact Tracing.
Amazon HealthLake, a new offering from AWS, will be available in December 2020. It is intended for customers in the healthcare and life sciences industries. It assists enterprises in aggregating, labeling, indexing, and structuring data from silos and processing it with ML capabilities to generate insights.
Google announced cooperation with Telefónica in June 2020. Google plans to create a cloud region in Spain using Telefonica's Madrid area infrastructure as part of this partnership. This collaboration also aims to aid the country's economic recovery following COVID-19 by increasing corporate digitization and assisting Spain's public administration.
Microsoft launched Microsoft Cloud for Healthcare in May 2020 to address COVID-19 problems. Microsoft developed healthcare-specific cloud capabilities, enhanced process efficiency, and streamlined interactions. Data analytics for both structured and unstructured data are available in Microsoft Cloud for Healthcare.
 Challenge: Cyberattacks damaging business operations and critical data loss
Cloud computing services assist businesses in increasing business efficiency and lowering costs. Furthermore, these services provide numerous benefits, such as flexibility, scalability, and agility. Even though the cloud provides numerous benefits and security precautions, data stored in the cloud is still vulnerable to hackers. The number of cyberattacks is continually increasing as the volume of data grows and organizational initiatives toward digital transformation expand. Cyberattacks such as Spectre and Meltdown, as well as cloud malware injection attacks, account or service hijacking, and man-in-the-cloud assaults, expose company data to vulnerabilities. These risks have the potential to cause corporate losses and shutdowns.